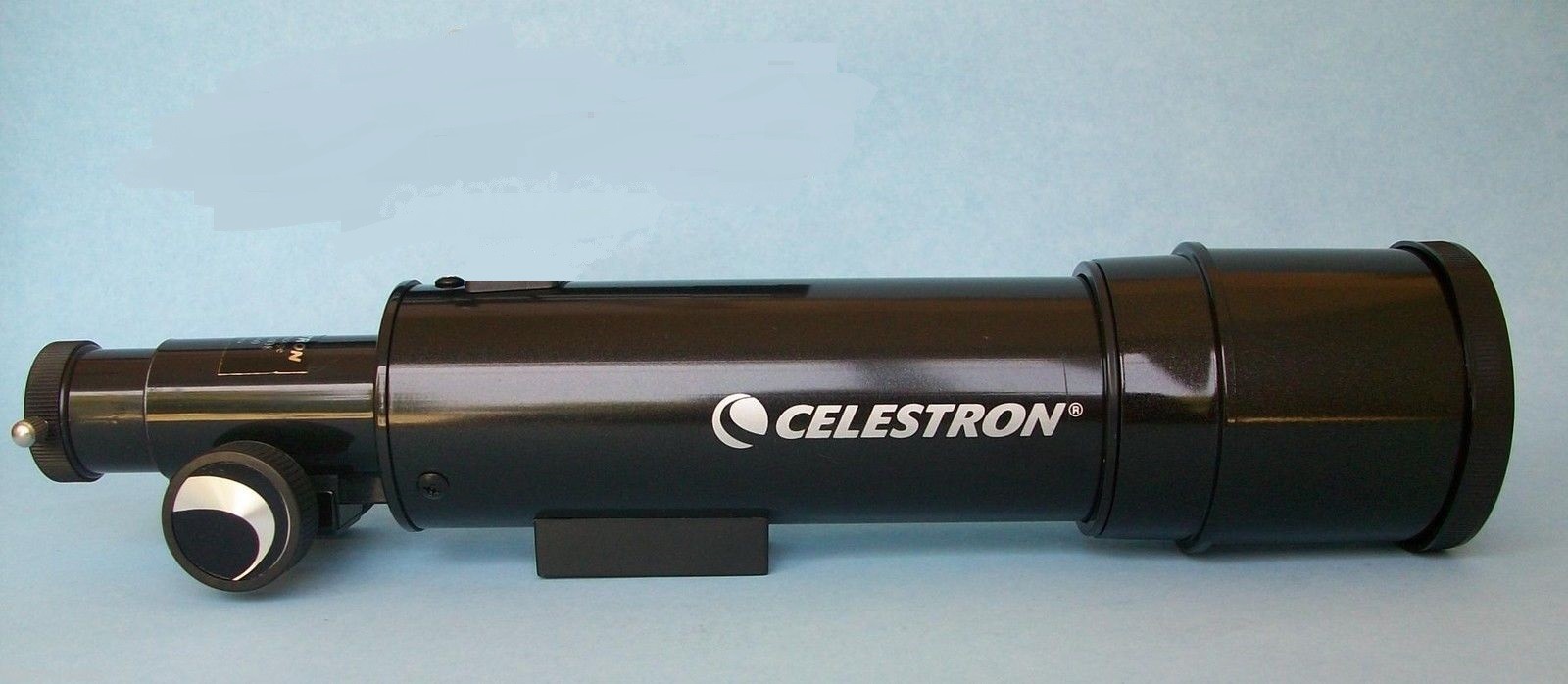 Refractor Specifications
APERTURE: 50mm
FOCAL LENGTH: 360mm
FOCAL RATIO: 7.2
OPTICAL COATINGS: Fully Coated
FOCUSER SIZE: .965″
TUBE: Metal
WEIGHT: 13 ounces
LENGTH: 12.5″

BLUF: A COOL SCOPE ! For me, this is an excellent value whether used as a grab-n-go or as a finder. It has nice optics for it's price range. It is lightweight. It provides a purpose for the 0.965 EPs kicking about.
I received this early last week and grabbed a Meade Infinity Alt-Az mountery light and portable second scope. Has .965″ focuser so you can use the extra accessories you already have. Both an eyepiece and diagonal are required to use this scope.

I purchased this as a finder scope candidate. Seemed like a decent bet to make – you can easily spend this much on a 6x30mm finder (with bracket) and while I do appreciate those cross-haired little wonders, I generally prefer Red Dot-ish finders. Now, I am new to current astronomy equipment and I want to be careful about developing preferences based on limited experience. So the thought came to mind to put together my own finder combo – nice refractor, inexpensive diagonal, and then a range of EPs to choose from – High/low mags, reticled / non-reticled.
I've got a few generally unused but quite serviceable 0.965 EPs kicking about so I went off in search of a short tube, finder-ish 50~70mm refractor. Bumped into this on eBay for $20.98 delivered – definitely worth a try at that price. It is the OTA only – no mount, tripod, barlows or eps. I found that attractive, thinking I'd get a better quality OTA if not paying for things added as part of a minimal package.
Celestron 50mm
Rich Field Refactor Telescope
You can add a diagonal and it's RA – add a CI diagonal and it is RACI – add an adapting diagonal, and you can use 1.25″ EPs. Your choice and inexpensive if you shop wisely.
Only $14.99 ! ! !
$20.98 Delivered, https://www.ebay.com/itm/Celestron-Rich-Field-Refractor-Optical-Tube-Short-Compact-Telescope-OTA/232918510116?ssPageName=STRK%3AMEBIDX%3AIT&_trksid=p2057872.m2749.l2649
No accessories are included. You will need a diagonal and eyepiece to use this scope. An OTA is an optical tube assembly. No accessories or mount are included. You will have to supply an eyepiece, diagonal, mount, and tripod.